Who creates the lobby?
Edit
If your match is a broadcasted match, the casting team will create the lobby and do the coin toss for you. Check the Livestream page for this information.
If not, captains have to contact each other and create the lobby between themselves. It is EXTREMELY important that you follow the rules described below.
Lobby Settings
Edit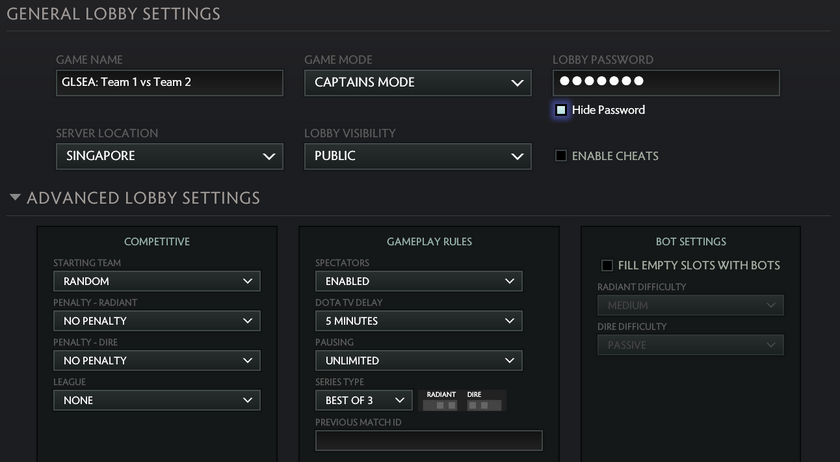 .
Starting team
Edit
To be decided by a coin toss.
Use the ingame command "/flip" after each team picks Heads or Tails
Winner of coin flip: Chooses to pick Radiant/Dire or 1st Pick/2nd Pick
Loser of coin flip: Chooses the other.
After both are decided, the teams move to their correct starting side, and the Lobby Owner sets "STARTING TEAM" the team who chose 1st pick: Radiant or Dire.
Spectating:
Edit
Make sure to set "SPECTATORS" as "ENABLED" & DOTA TV DELAY as "5 MINUTES"
Series type:
Edit
For the Group Stages, choose Best of 3 - If first game: leave it blank. If second game: update the result. Linking the match ID is not mandatory, but make sure to record all MatchID after the games are finished.
After the match
Edit
Take a Screenshot of the end-screen with the Picks and Match ID visible. (new!)
Communicate result to Arthur (Mail or Skype as long as I get the file!)